Jargon Buster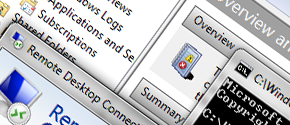 Here at Klarity we like to make things clear for our customers. Below is this weeks busted jorgon.
HDD
The Hard Drive (or Hard Disk) is where all your pictures, videos and general data is stored. People occasionally confuse Hard Drives with Memory as they are measured in the same units (Megabytes "MB" and Gigabytes "GB"), however they play very different roles. The hard disk will permanently store data for you, allowing access when needed, whereas System Memory will only store data for short periods of time before unloading it onto the CPU
Testimonial
"As a multi disciplined company dealing with residential sales, lettings, mortgages, surveys, conveyancing, and removals it's essential our network of branches can rely on IT solutions and support from experts in the field.
Klarity deliver a service unrivalled by any previous IT consultants we've used. Providing us with a team of specialists 7 days a week - this allows us to get on with what we are good at - safe in the knowledge that our IT infrastructure is in good hands"
Ashley O'carrol - Director Peter Heron Estate Agents Sunderland